Expandable Mandible is the new single by Joe Gideon with Jim Sclavunos & Gris-De-Lin. Out June 6th on binary formats via all good digitals.  Pre-order on iTunes HERE. Or direct from us HERE.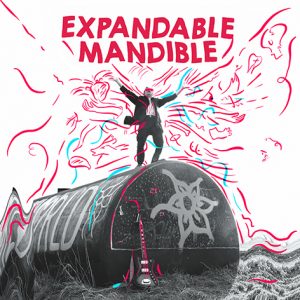 ON TOUR:
JUNE 6: LONDON, Dingwalls
JUNE 8: EXETER,  The Phoenix
JUNE 9: LEEDS, Brudenell Social Club
Watch out  the trailer HERE
Joe Gideon (formerly of Bikini Atoll and Joe Gideon & The Shark) is a
uniquely eccentric songwriter who has been faithful to his storytelling
post-punk dance party muse for almost two decades. As the follow up to
his "pithy, powerful, lyrically erudite" debut solo album 'Versa Vice' (2016,
on Bronzerat Records), Joe Gideon has teamed up with two other musical
originators — drummer/percussionist Jim Sclavunos (Nick Cave & The Bad
Seeds/Grinderman/Sonic Youth/The Cramps) and
keyboardist/saxophonist/vocalist Gris-De-Lin (Duke Spirit/Gemma Ray/Leila
Moss) — for a collaboration album that explores subjects ranging from the
cosmic to the mundane through an ever-shifting kaleidoscopic prism.
'Expandable Mandible' is the first track to be taken from their
as-yet-untitled forthcoming album, produced by Jim Sclavunos. Alllegedly
a true story about a guy Joe Gideon knows who has a weather-predicting
prosthetic jaw, 'Expandable Mandible' is driven by a jagged groove and a
single tense riff that unfolds and grows until it drops you off in the
magnetosphere.