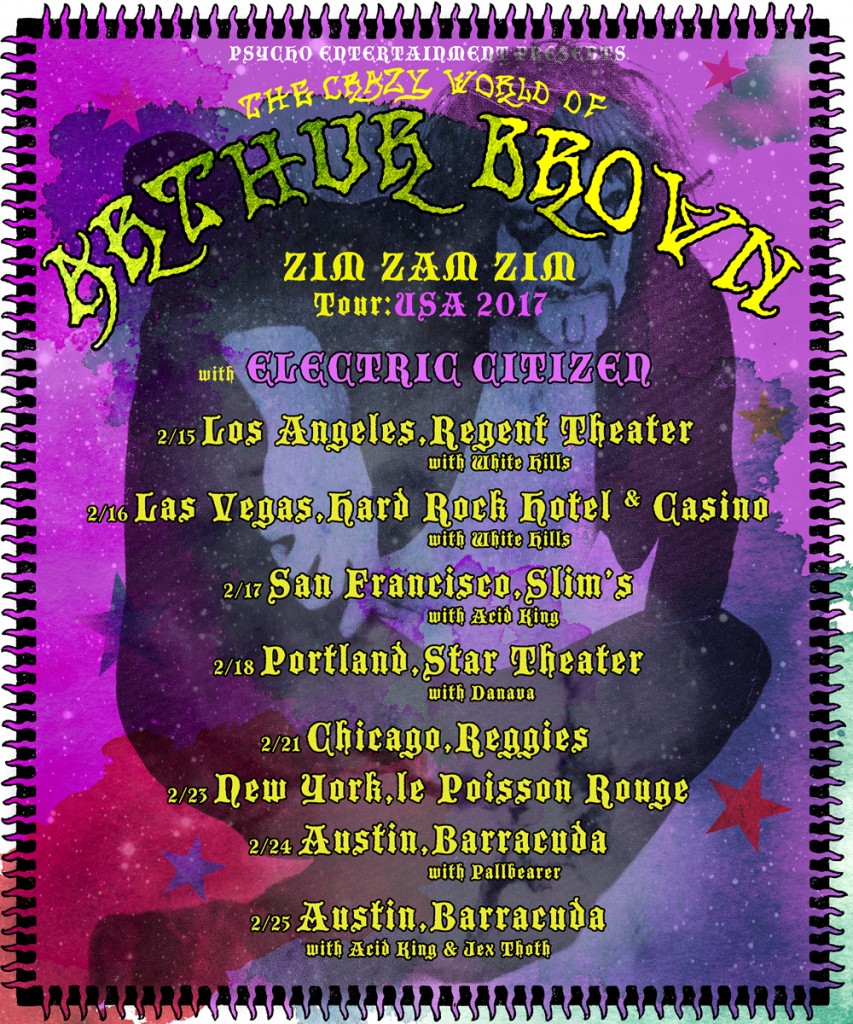 After a highlight performance at Psycho Las Vegas 2016, hugely influential UK heavy psychedelic progressive oddities The Crazy World of Arthur Brown have announced their 2017 "ZIM ZAM ZIM" tour – their first run of US shows since 1969.
The God of Hellfire himself, Arthur Brown, will be celebrating 50 years since releasing the debut single "Devil's Grip", which helped shape the British and worldwide psychedelic movement. Pushing theatrics to their dystopian hellscape limits would earn Brown acolytes in everyone from David Bowie and Alice Cooper to KISS, Marilyn Manson and Lady Gaga to the entire genre of black metal, and his influence continues to spread today.
"Last time I toured US with the Crazy World was early 1969," Brown confirms. "It was our third tour there. At the time, the band had been headlining massive festivals, alongside Hendrix, Frank Zappa, Jefferson Airplane, and other top attractions of the time. Iggy Pop and Alice Cooper were still only mildly famous, somewhere down the bill."
ZIM ZAM ZIM takes its name from The Crazy World of Arthur Brown's latest album, released in 2014. They'll be joined on this landmark trip by Ohio rockers Electric Citizen, and shows will feature generational sonic offspring like White Hills, Acid King, Pallbearer, Danava and Jex Thoth.
The tour stops at:
15th February 2017 – Los Angeles, Regent Theater w/ White Hills
Tickets here.
16th February 2017 – Las Vegas, Hard Rock Hotel & Casino w/ White Hills
Tickets here.
17th February 2017 – San Francisco, Slims w/ Acid King 
Tickets here.
18th February 2017 – Portland, Star Theater w/ Danava 
Tickets here.
21st February 2017 – Chicago, Reggies 
Tickets here.
23rd February 2017 – New York, Le Poisson Rouge
Tickets here.
2/24 Austin, Barracuda w/ Pallbearer & Pinkish Black (without Electric Citizen)
Tickets here.
25th February 2017 – Austin, Barracuda w/ Acid King & Jex Thoth
Tickets here.
---
Related show