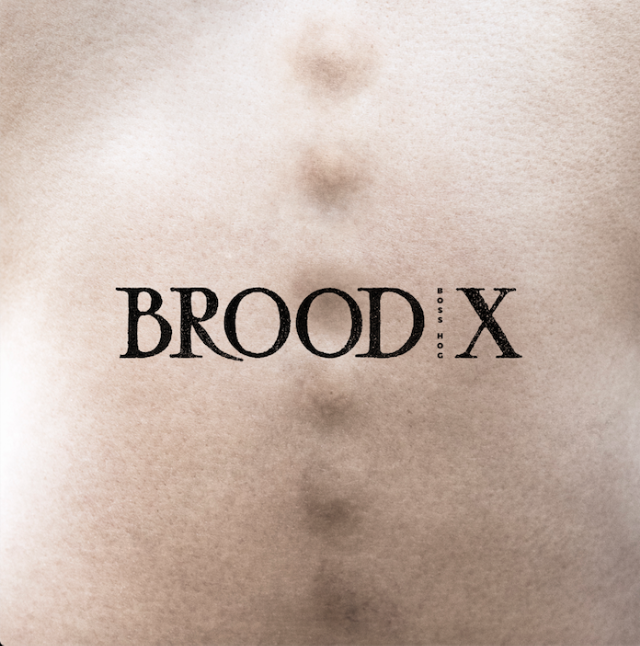 Tired of feeling sad? Tired of feeling beat-down? Tired of feeling used, abused, lied to, and shamed? Can you remember what it was like when rock'n'roll made everything all right??  
  
BOSS HOG has heard your call. 
  
BROOD X is the change you have been waiting for. 
  
Let BOSS HOG lift you up. 
  
BROOD X is a party you can believe in. 
After 17 years, a new Boss Hog album is finally with us. Brood X arrives on 24th March 2017. It's available to pre-order on LP/CD and as a digital download here.
Listen to '17' from Brood X:
———————————————————————————-
More details and tour dates below.
The Boss Hog All Stars 
Cristina Martinez – vocals 
Jon Spencer – guitar & vocals 
Jens Jurgensen – bass 
Hollis Queens – drums & vocals 
Mickey Finn – keys
Brood X Tracklist:
01 "Billy"
02 "Black Eyes"
03 "Ground Control"
04 "Shh Shh Shh"
05 "Signal"
06 "Rodeo Chica"
07 "Elevator"
08 "Formula X"
09 "Sunday Routine"
10 "17"
Boss Hog bring their raucous live show to the following cities:
Live in Europe:
02/03 – London, UK @ Oslo Hackney
02/04 – Maastricht, Netherlands @ Muziekgieterij
02/05 – Utrecht, NL @ Tivoli de Helling
02/06 – Leuven, Belgium @ Het Depot
02/08 – Rouen, France @ 106 Club
02/09 – Paris, France @ La Maroquinerie
02/10 – Nantes, France @ Le Stereolux
02/11 – La Rochelle, France @ La Sirene
Live in the USA:
03/30 – New York, NY @ Mercury Lounge
03/31 – Buffalo, NY @ The Waiting Room
04/01 – Cleveland, OH @ Beachland Ballroom
04/07 – Washington, DC @ Rock and Roll Hotel
04/08 – Philadelphia, PA @ Underground Arts
---